Study "Architecture" at the Department of
Architecture and Architectural Engineering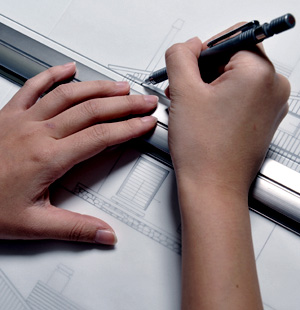 The field of architecture can be defined broadly as a discipline which creates living environments for humanity, thus is a field not limited to the design of homes, or urban spaces only. Architecture is a sphere of study which encompasses large swaths of human endeavor, combining construction techniques with the social sciences and the humanities and arts, the achievement of its feats providing stimulus and esthetic satisfaction for the mind. Thus, those who learn architecture in the future must master the fields it subsumes in a comprehensive and interdisciplinary fashion.
In times to come, even those who now live with only a casual regard for architecture will require a display of expert knowledge and engineering techniques in the environments they inhabit. In the future, Then, those considering undertakings related to architectural work will be required to assume a role in which they use the aforementioned expert knowledge as the basis for managing segmented fields in a cross-sectional manner, assembling the results of their labors in a comprehensive way. To meet these societal demands, the department fosters in its students the abilities to think creatively, apply themselves firmly, and clearly communicate in order that they might conceive of new ideas in the field of architecture rather than being bound to conventional values. Its primary goal, then is to produce architects form the standpoint of human resources development, equipping their students with a wide range of problem-solving abilities.
---
COURSES
General Architecture Course
This course focuses on basic academic skills relating to architectural engineering. Consistent practical skills from design to construction are developed.
Architectural Design Course
This course develops practical skills through teaching aimed at realizing desirable environments for architecture and cities.
Habitation Space Design Course
This course develops the practical skills for designing living spaces in which people can pass time in comfort.